As I write, the sound of Dvorak's "New World" symphony is streaming over my computer.
Appropriate.
My body still shows evidence of the thorns that cut through my jersey sleeves and denim jeans a week ago. My two hiking buddies probably bear similar scars.
When the three of us canoed in to my family's former home site last summer, I had pointed out the general location of a nearby cave. Recent mild weather provided us with the perfect excuse to visit. The state-established hiking trail led with relative ease to where it dead-ended, at the cave.
The cave is awe-inspiring with it's massive rock formations. My camera doesn't do it justice. I'll settle for this view of the cave's outer edge.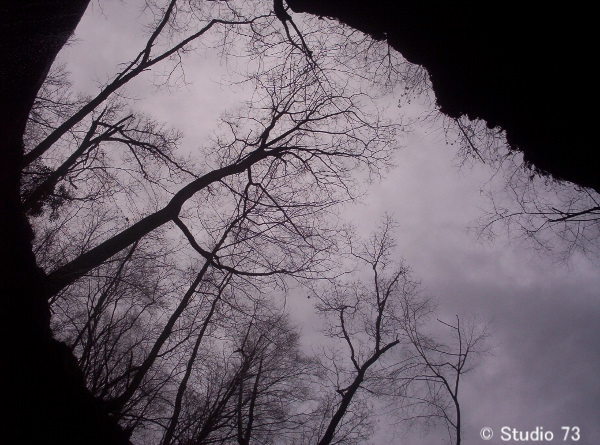 After returning down the beaten path, we set out in a different direction. One of my friends had located a destination on Google earth that he suggested we find. His explorer's heart opened the door to our real adventure that day. We stepped into a journey with no established paths to lead us. A journey requiring us to find our way without the benefit of following someone else's footsteps.
Hence, our scratched-up arms and legs!
Besides fighting through tightly interwoven briers and thorny branches that covered the steep hillsides, we also encountered numerous felled trees to climb over (or under).  There were ravines to slip and slide down before climbing up and out on the opposite side. Evidence of fresh deer kill reminded us that these hills were inhabited by life other than human!
Pressing towards our goal, we eventually found our progress hampered by a ravine far larger than those we had already passed through. I suppose we could have turned back.
We forged ahead.
And as we did, the ravine unfolded to reveal its secret beauty that demanded our attention….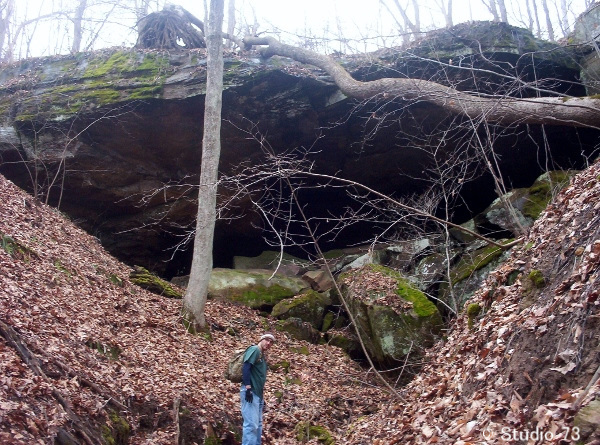 I've known this region for over 40 years. But I've never heard anyone speak of this particular cave. I doubt many even know of its existence.
Most have followed the beaten path set by others. Looking for a destination they've been told to expect. Don't get me wrong. There is wisdom in taking an established path to reach an expected end. There is beauty to be seen and value to be experienced, following the known paths.
But I have to wonder….
How many paths do you and I thoughtlessly wander simply because they exist?
How often do we reach a destination merely because it is where someone else's journey has led, not because we've required ourselves to exercise courage in pursuit of the unknown?
What are the beaten paths that we need to step off of?
What waits to be discovered?