A painful childhood scene was playing in my mind. I attempted to sooth that hurt by writing about it in a few words before quickly moving on to describing God's healing. A good friend gave me an evaluation, "What I'm hearing/feeling/sensing is that it's coming from your head. Usually your writing comes from your heart."
She was right. I was rushing through the scene when I actually needed to allow the scene to play in its entirety. Then I would be able to move on to the next scene.
***
Scene 1: Childhood Home
Time: Fifth Grade
Characters: Me, Mom, Dad
Director's Note: Each scene is important, but one single scene does not define the entire story.
When I was in elementary school, moms everywhere faced a dilemma on picture day. They fretted, wondering what kind of backdrop the photographer would use. Moms selected their child's shirt or top, hoping it wouldn't clash too badly with the backdrop.
I was usually disappointed by the results. The click of the camera would have missed my smile. Or my hair would be messed up. Then there was the year I had been throwing up, but was determined not to miss picture day. (Those who missed picture day were represented by a cartoon character in the year book.)
When I saw my fifth grade pictures, I saw that mom had picked the perfect shirt for that year's backdrop. She would be happy.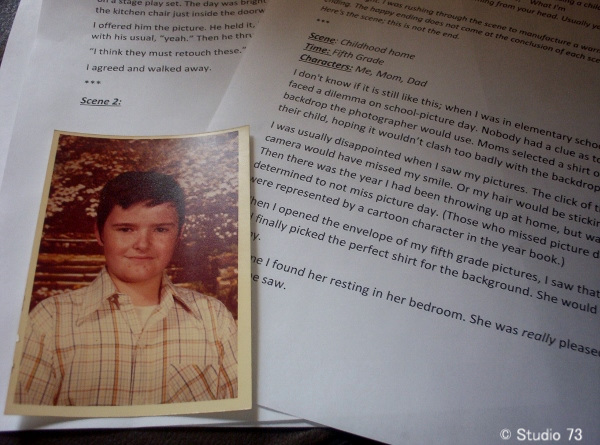 At home I handed her my picture. She was excited and really pleased, "Go show this to your dad." I complied although I thought this wasn't a good idea. On the other hand, I did feel a little hope; the picture was good.
Nearly forty years later I still remember the details as if they were a set designed for a play. The day was bright and sunny. Dad was seated in the kitchen chair just inside the doorway. He was facing the window.
I offered him the picture. He held it, looked it over, and handed it back with his usual, "yeah." Then came his jab,
"I think they must retouch these."
I bravely agreed and walked away.
***
Scene 2: My Heart
Time: Today
Characters: Me, Father
When I look in the mirror today, literally and figuratively, I question the value of who I see.
My Father calls me close. I'm nervous, but I respond. He looks in my eyes and speaks.
I am your true Father. I know you son, and lay my hand on you. Nothing, not even the darkness, can hide you from me. I look at you and I say, "Wonderful," for I made you. And I did a good job!
Son, I love thinking about you and my plans for each and every day you live. I don't take lightly any hurts that have been brought against you.
You are my masterpiece. I've got so many good plans for you. And I am committed to seeing those plans happen.
I've chosen you son, and have never rejected you and never will. So don't be afraid or dismayed. I am strong for you. I hold you son, in the same hand with which I created you.
(Paraphrased: Psalms 139: 5, 11, 13-14, Ephesians 2:10, Philippians 1:6, Isaiah 41: 8-10)
I am humbled, listening to Him describe who He sees. I have no reason to turn away.