It's not really "my" book; I am only one of ten authors in this book written by Cambridge OH's Rainy Day Writers (RDW). We write feel-good stories and articles. Each year some of those stories and articles are compiled and published in book form. I'm excited to have five of my stories included in this year's book, The Rainy Day Writers Digest… Vol II.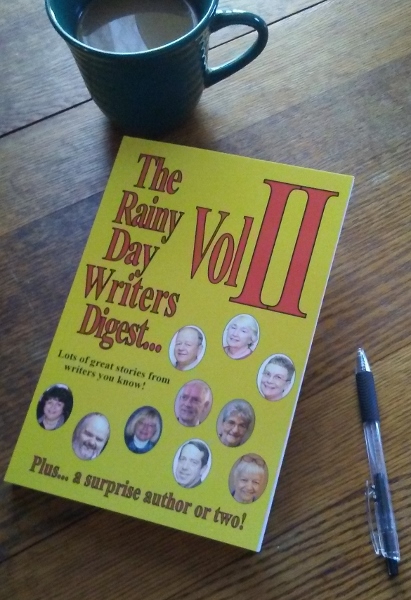 I am giving one signed copy of this book to one of you readers. (All ten authors personally signed all 300 books that were published in the first printing!)
Here's how to enter if you'd like to win a copy of the Vol II Digest. Add a comment at the bottom of this post, telling me why you think you should receive a copy of this book – your comments can be serious or silly; silly would be fun! Fair warning – your comment won't influence your chances to win or not win this book – the winner is randomly chosen by computer.
If you are reading this in your email, click here to go to website version of this post and make your comment there.
Make your comments quickly – this contest ends at midnight this Thursday, December 14.
(Here's a picture of some of us RDW'ers – taken after we'd shared a few of our stories at our local Senior Citizen's Center – we're a fun group. Check out our Facebook page too, https://www.facebook.com/RainyDayWriters/ )