You probably don't care that Ohio State Rt. 513 is temporarily closed for slip repairs, but I sure do. I've been driving across Rt. 513 almost daily to get to work, to church, and to other activities. Rt. 513's closure has forced me to leave the house earlier and take longer routes along unfamiliar roads to reach my destinations.
A few times I've taken the Fairground – Middlebourne road which passes a historic, stone "S"-bridge before then winding through an Amish community with tidy white houses and red barns.
Once I drove across Rt. 800 – a road boasting impressive views from high vantage points. There was a spot where I caught a glimpse of Piedmont Lake nestled in a valley. Other places I could see for miles across tree-covered hills. Since I was driving, I had to remind myself that the view of the road in front of me was more important than my view of the countryside around me!
Today I came home via the gravel and dirt Hoover Road. I discovered a farm being guarded by a dozen snow-white geese. They honked viciously, warning me not to invade their space. I spied an old house with a collection of 4 or 5 Cadillac's rusting away in the front yard. A couple miles later I was impressed by a multi-acre oil and gas well pad with its tons of production equipment.
And then I drove down a hill to this peaceful scene…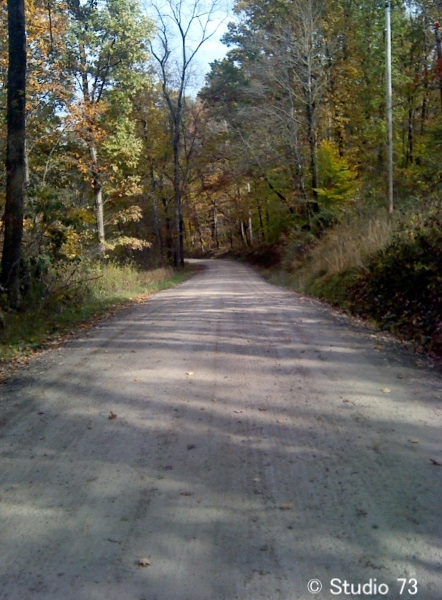 Yes, the closure of 513 has changed how I travel to my destinations. But it has also allowed me, forced me, to explore new roads, taking in new sights, I would have otherwise missed.
I think there just may be a life-lesson there.