Are you planning a vacation this summer? One of those pack-up-the-car and the family and head out for adventures you've dreamed of for months?
There are no such travel plans currently on my calendar, but I am finding local sites worth exploring. Out-of-state vacationers would be delighted to stumble across these places during their travels.
A Cemetery
Old Washington's history-rich cemetery dates back to the pre-Civil War era. Although it is only twenty minutes from home, I'd never visited it until two weeks ago. Look at this stone foundation. Are these stones all that remains of an ancient church? Or do they mark a private burial yard for some long-forgotten prominent family?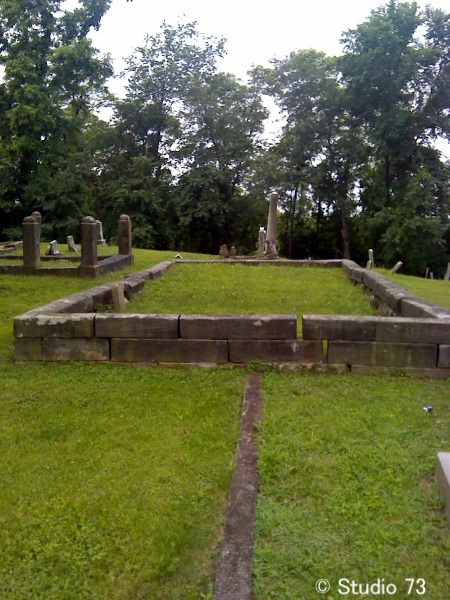 Near this impressive layout of stone, a humble marker stands over the graves of three unnamed Confederate soldiers. These men lost their lives when Morgan's Raiders infiltrated the North and swept through the area. Every Memorial Day a local veterans organization places three confederate flags on this grave.
Standing at their graves I experienced an unplanned moment of silence. I was sobered by the reality that I was standing where the families of these three unknown soldiers were never able to stand or grieve their losses.
What a significant spot to visit!
The Bridge
How long since you've seen one of these? This covered bridge, nestled in a quiet valley, is a whole ten minutes from my house. The bridge and valley carry a mysterious name, Skull Fork. That certainly stirs some questions!
Picnic tables inside and grassy areas outside offer space for thinking, reading, writing, or simply being still.  An active imagination may be able to hear the echos of buggy wheels creaking as they cross the floor boards. Or maybe catch the shadow of a young man stopping his buggy to "spark" with the young lady beside him?
Can you believe I've seen this beautiful spot, minutes from my house, less than ten times in my entire life?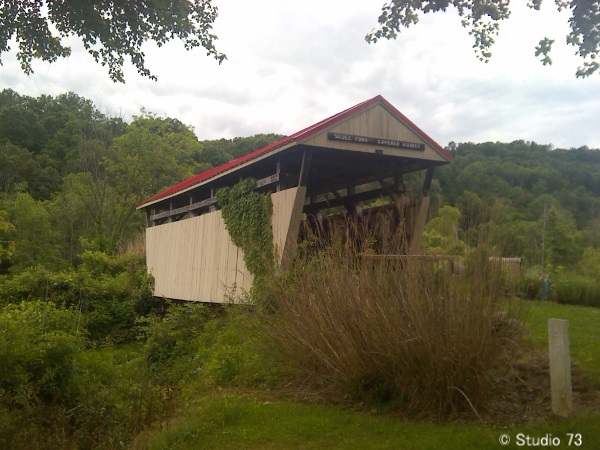 The Barn
This next scene unfolds only a couple minutes down the road from the covered bridge. Yes the painted tires on the fence are noteworthy, but the real attraction is the unusual barn.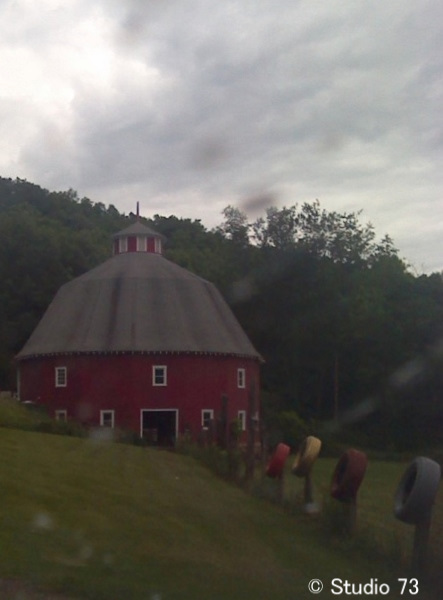 Round barns (or in this case, hexagonal) are rare. Many are listed on the National Register of Historic Places. According to research done in the 1970's, the United States had only 444 such barns standing. And without a doubt that number has shrunk significantly since then.
No doubt barn enthusiasts would travel miles to see what I can see by driving only a few miles. They would have a hard time finding it; Wikipedia's registry of round and hexagonal barns does not list this location.
Just like I said about the covered bridge, I've driven past this fascinating barn less than ten times.
Summer of Discovery
These scenic, close-to-home discoveries remind me that whether or not we journey far from home, we all have sites worth discovering within minutes of our homes. Let's make time to appreciate what others would travel miles to enjoy.