"This is my story. It is not the same as your story. But hopefully reading my story will encourage you to more fully live your story."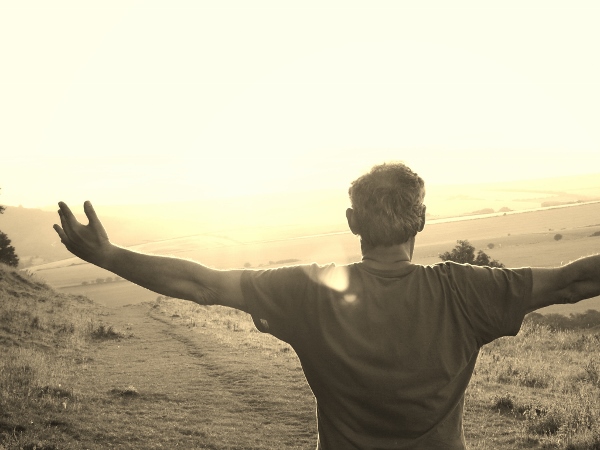 (Photo by Juan Jose Alonso on Unsplash)
These lines are from the cover song of Matthew West's latest CD, "All in."
Turns out safe is just another word for regret….
I'm going all in,…
I hear you calling,
And this time fear won't win.
Surrender
To be "all in" with God means living a lifestyle of surrender rather than merely doing what is right when that seems comfortable or safe. My pastor, Dave, has been challenging me with the "all in" type of surrender; the "I'm drawing a line in the sand and giving control to God and I'm not going back," surrender. Dave is not talking about living in perfection, but rather living depending on God and his ways as being for my good.
I have to admit that my beliefs about surrender have not demonstrated much trust in God's goodness; God wants me to surrender so he is going to "get me" to force me to surrender.
Maybe he'll take away someone I love.
Maybe he'll break my health.
Maybe he'll break me financially.
Well, whatever I imagine God might do, he won't do. He'll sneak in some other way and hit me really hard, in order to make me surrender.
Yeah, what I'm describing is an insane cycle of thinking that does not trust in the goodness of God at all.
God's Invitation
When I take a step back from my faulty thoughts about surrender, I sense the gentleness of the Holy Spirit saying, "This is not how I work. I do not force you to surrender. I am inviting you to trust me that surrendering to me is good."
Now it is true that bad things can and do happen. But God works to bring good through those bad things; sometimes that means those bad things open our eyes to how much we need him. And when we accept (surrender) that we need God, we experience the goodness of his care. Romans 8:28 and Jeremiah 29:11 speak to that.
Here's Where I'm At
I can't figure out how to surrender to God; how to let go of attempting to manage life my way as opposed to God's way. Scripture says that our very will to obey (surrender) comes from God (Philippians 2:13). Dave has told me, "You can't schedule surrender. God may bring you to that point when you least expect it."
Here's where I'm at; since I'm thinking about my need to surrender, I believe God is working in this area of my life. So for now, rather than worrying about how to surrender or exactly what surrendering looks like, I simply trust that he is working to bring me to that place.
Come to think of it, that trust is, in itself, a point of surrender.
 "Being confident of this, that He who began a good work in you will carry it on to completion until the day of Christ Jesus." (Philippians 1:6 NIV)
What About You?
Do you have a victory story of surrender? Or are you like me and struggling with surrendering? I'd love to hear your story. Comment below or click on the "Contact" tab at the top right of this page.