This CD giveaway is closed. Thank you to all who entered. And congratulations to Bonnie, who was randomly chosen by computer and will receive a free copy of this CD from Propeller Consulting, LLC.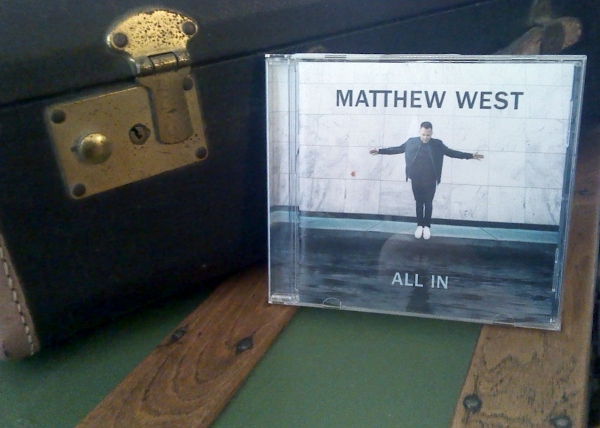 I haven't offered a giveaway for some time. But when I was given the opportunity to review Matthew West's newest CD, "All In," I was … all in! I'd been hearing one of the tracks, Broken Things, on Sirius XM. This is the line that caught my ear,
"It's never the perfect, it's always the ones with the scars that you use…. Grace is a kingdom, with gates open wide. There's a seat at the table just waiting for you. So, come on inside"
In true Matthew West style, the songs of "All In" offer encouragement, hope, and comfort for both everyday living and for those more difficult times. Besides the title song, "All In," and my favorite, "Broken Things," there are 12 other songs on the CD including,
Mercy is a Song
The Sound of a Life Changing
The Beautiful Things We Miss
Dream Again
You are Known
How to Win
One of you will win a free copy of the "All In" CD for your enjoyment. Here's how you can enter.
Share a comment in the "Leave a Reply" section at the bottom of this post. Any nice comment about any appropriate subject -the color of the sky, the taste of your coffee, your favorite food, whatever 🙂 – will give you your chance to win.
(If you are reading this by email, click here to go to my website to write your comment.)
Only one comment per person, please.
Your comment must be made by 11:59 PM on Wednesday, September 27.
I will notify the winner by email on Thursday, September 28. The winner must respond by email by Saturday, September 29 to claim their prize.
I look forward to reading your comments! And if you don't happen to win this giveaway, I encourage you to purchase your own copy of "All In." You will be encouraged. 
Disclosure (in accordance with the FTC's 16 CFR, Part 255: "Guides Concerning the Use of Endorsements and Testimonials in Advertising"):
Many thanks to Propeller Consulting, LLC for providing this prize for the giveaway. Choice of winners and opinions are 100% my own and NOT influenced by monetary compensation. I did receive a sample of the product in exchange for this review and post. Only one entrant per mailing address, per giveaway. If you have won a prize from our sponsor Propeller /FlyBy Promotions in the last 30 days on the same blog, you are not eligible to win. Or if you have won the same prize on another blog, you are not eligible to win it again. Winner is subject to eligibility verification.