I chose the longer checkout line. The other was being manned by a clerk going through the motions of the job, methodically ringing up customers, accepting their money, and sending them out the door.
Joe, my cashier, offered a warm grin to each of his customers. He was mid-20s, wiry, and full of energy. Among his piercings was a pierced cheek.
His tattoos were what caught my eye; the ink work included some sort of geometrical design, a representation of Christ, and a cross.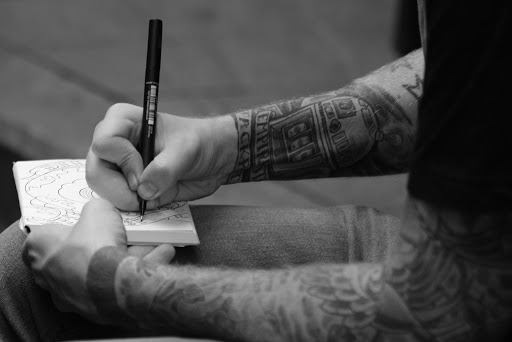 I like tattoos. I don't have any, yet. One of these years I'll be turning fifty. Getting inked might be a good way to observe that milestone. But I digress….
I reached the register, set my coffee down on the counter-top, and pulled out my wallet. Joe greeted me with his smile. I responded, "I like your ink."
"Thanks Boss! I appreciate that."
He rang up my $1.49 purchase and handed back the change. I felt prompted to say one last thing before walking away, "Whenever I see tattoos, I'm reminded that each tells a story."
Joe looked both surprised and pleased. His response was genuine, "You're right! That's a good way to put it."
I don't know what message my words conveyed to him. But I could tell that message reached his heart.
I'm glad I chose the longer line.
Maybe you will have an encouraging word to share with a stranger today.